July 12, 2015
Services
No Comments
Swiss Garden Hotel Group
Swiss Garden Hotel And Residences Kuala Lumpur
the Swiss-Garden Hotel & Residences Kuala Lumpur is committed to ensuring your meetings and conferences are an unparalleled success. Add to that our modern yet homely accommodation, excellent business facilities, refined personal service, contemporary and stylish F&B outlets, splendid Spa and leisure facilities; our hotel creates an ideal location for business meetings and corporate events.
if you are looking for wedding hotel Malaysia, our Culinary Team will be happy to customize a menu that reflects your taste and style while our wedding dinner Banquet Team will ensure that you receive their utmost attention to service and details to make your special event a memorable one.
Swiss Garden Beach Resort Damai Laut
This 4-star, beachfront hotel offers accommodation of international standards, superb resort facilities and personalized service that promises a memorable and rewarding stay. With five food and beverage outlets, it also offers large conferences with the availability of a pillarless ballroom. For leisure, sea based activities are carried out from the resort's own private beach and jetty. An exclusive Balinese Samsara Spa is also situated in the resort
This private resort is complemented with beautiful sights and sounds of nature and it is one of the best Damai Beach golf resort Malaysia . Almost every angle of this resort is adorned with lovely sceneries of nature and overlooking the Pangkor Island.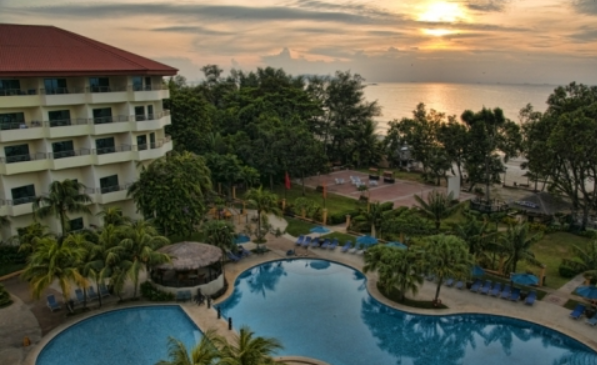 Swiss Garden Beach Resort Kuantan
This resort is one of the best Cherating resort in Kuantan. All guestrooms are attached with a private balcony overlooking a panoramic view of the mesmerizing South China Sea or the lush green landscape surrounding the resort. The resort's accommodation options range from the spacious Deluxe Room or Sea View Room to the larger suites. Your family will appreciate our spacious Family Room that comes with two inter-connecting rooms, designed to accommodate up to four adults. Indulge in our decadent Executive Suite where you can soak in your private Jacuzzi and be pampered with a collection of exclusive amenities and exceptional service
Swiss Inn Kuala Lumpur
Swiss Inn Kuala Lumpur is a famous Petaling Street hotel which is just 5 minutes walking distance to China town. The area bordered by Jalan Hang Lekir, Jalan Sultan and Jalan Tun H.S.Lee, China Town never fails to enchant visitors with its amazing colours, smells and sights. The central section, "Jalan Petaling", is a frantically busy market that is closed to traffic. Under the shade of multi-coloured umbrellas, trades fruits, flower, CDs/VCDs, magazines, clothes, watches , and iced drinks such as "dragon-eyes water" make impressions on all five senses.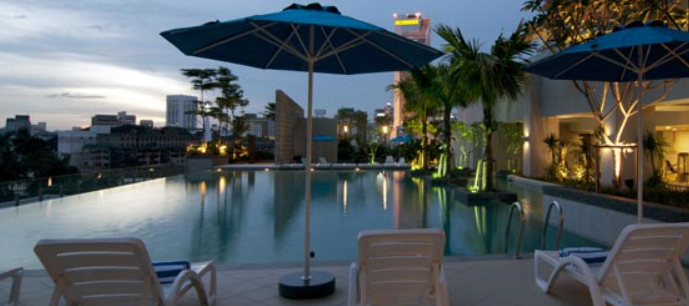 Swiss-Garden Residences Kuala Lumpur
An architectural masterpiece that defines the skyline in the cosmopolitan district, the Swiss-Garden Hotel & Residences Kuala Lumpur is one of the best serviced apartment Kuala Lumpur. The unique structure of the glass and steel element boasts of North Tower and South Tower , rising majestically at 33 and 37 storeys respectively. Comprising of 302 units of contemporary serviced apartments ranging from 1 bedroom deluxe to 2 bedroom premier apartments, it is replete with modern fittings & amenities. Each unit is elegantly designed with a perfect blend of luxury and features an impressive high ceiling, sunken bath, rain shower while premier glass tiles adorn the bathroom walls. A magnificent view of the Kuala Lumpur skyline greets residence as they step into the tastefully furnished apartments