Dorra Slimming review
EFFORTLESS SLIMMING EXPERIENCE WITH DORRA
No Pain No Gain is the motto for many women to fight against fat. It seems the journey to shape a perfect figure will never be effortless or painless.
However, things have changed. With dorra™ — the French lower body slimming expert, now you are able to bid goodbye to the annoying fat in a snap of finger without suffering from pain or enduring any risk.
Combined with the expertise of specialists, the lower body fat problems, such as Cellulite, Genetic, Middle Aged, Nutrition Caused, Post Natal or Stubborn Fat will be solved with the popular dorra™ Formula.
The formulated essence with fat-burning effect will last up to 12 hours, and promote efficient discharge of fat-cell contents and reduce risk of cancer, heart disease and stroke.
Besides, the exquisite formula is effective in reducing cellulite, stretch marks and restores skin elasticity, as well as detoxifying and increasing metabolism.Your flabby skin will be tightened and toned; eventually, the lower body silhouette will be finely reshaped.
The result of dorra™ Formula has been proven.A great number of women have experienced an unbelievable transformation.Donn Chin, a lovely mother and bank teller, was troubled by post-natal weight gain before visiting dorra™.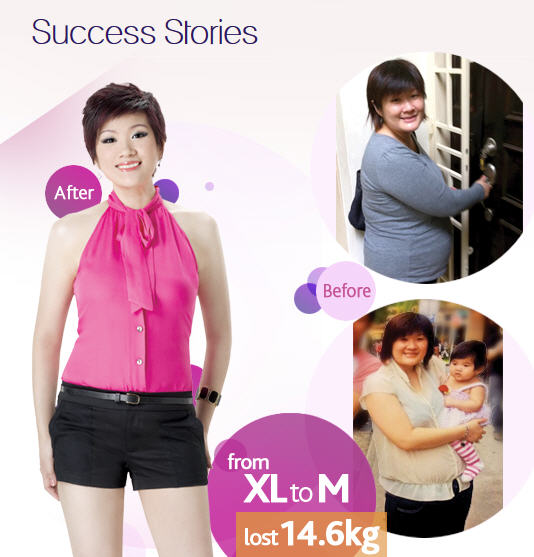 "After giving birth, I started to gain weight. My tummy, hip and thighs were fleshy and bulky. Ugly cellulite as well as stretch marks also appeared. My friend then recommended me to dorra™.
After going through dorra™'s customized treatments, I lost 14.6kg and my size has also gone down from XL to M. My tummy, hip and thighs are slimmer, my skin is firmer and my body is trimmer. When I lose the flab, the weight burden on my knees is also reduced and eventually the pain also lessened."
I am so happy to hear the words of my 3-year-old son – 'Mummy is prettier now'."
Donn is not the only success story. Another pretty lady–Cassey Chung has lost 15kg successfully after joining dorra™. Her stunning body makes her easily stand out from the crowd.
"I used to have chunky thighs and bulging tummy. When I was plump, I didn't like taking photographs. I felt that my huge size especially the lower body blocked the persons who stood near me.
"After I went to dorra™ for 2 months, my size changed from L to S."
Now, everybody notices her stunning silhouette when she takes photographs. Her elder sister also praised her when she saw Cassey wearing a swimsuit without any signs of cellulite.
Dorra™guarantees a 10-30cm loss in just 14 days, and also determined to provide a quick, effective & customized solution. The one-to-one consultation and consistent monitoring of your progress with intensive care have also been spoken highly among the customers.