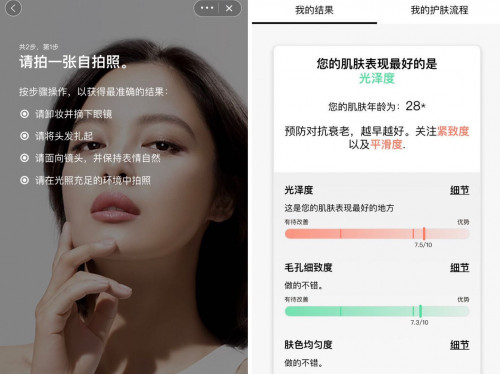 SkinRun & Vaseline AI Skin Analysis Software Malaysia
SkinRun & Vaseline AI skin analysis software, Scan your skin and buy the right product
Vaseline on Tmall has newly introduced an artificial intelligence in mobile diagnostic application which focuses on body skin problems – the intelligent skin analysis. It uses AI to examine the image, analyze partial body skin problems, provide personalized skin care recommendations, and suggest skin care products accordingly. A closer scrunity shows that it is not incongruent at all to use AI in e-commerce platforms. Instead, it generates growth in e-commerce.
Building an intelligent shopping platform with technology
As we all know, women are fast becoming the majority among consumers. It is for this reason that cosmetic and skin care markets have become the mainstream of expenditure at present. As artificial intelligence technology gradually penetrates into various industries, AI / AR-related applications are becoming the trend in the market.Taking the newly launched Vaseline intelligent skin analysis as an example, adding skin test application in the store's homepage has aroused consumers' interest. After being directed to the diagnostic page, consumer only needs to take a picture of the front view of arm or leg and wait for a few seconds to diagnose the skin's moisture, brightness, smoothness and firmness. The application will then recommend the most suitable products in the store based on the integrated skin dimension data. This does not only help in building consumers trust inadvertently, but also drive consumers to spend and improve overall sales.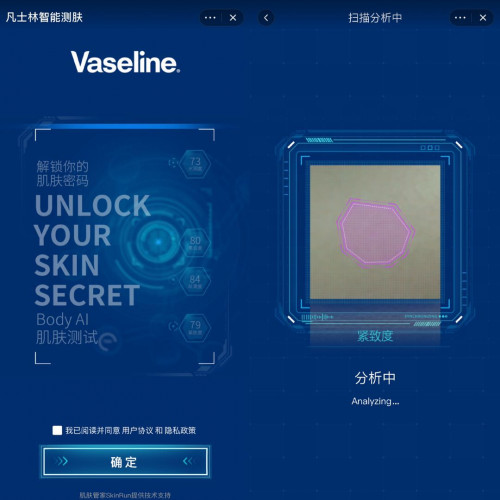 The picture shown is the interface of Vaseline skin test application on Tmall.
It is understood that the technical team behind Vaseline's AI ​​skin test application originates from Shanghai Shanglu Network Technology Co. Ltd., which was established in year 2012 and committed to big data analysis in beauty industry. The precise customized algorithm and big data analysis of its subsidiary SkinRun®, have provided practical and critical suggestions to the platform. The technology of AI is integrated into BI construction to help Vaseline on Tmall to build new intelligent shopping platform while in the process of digitizing and intelligentization.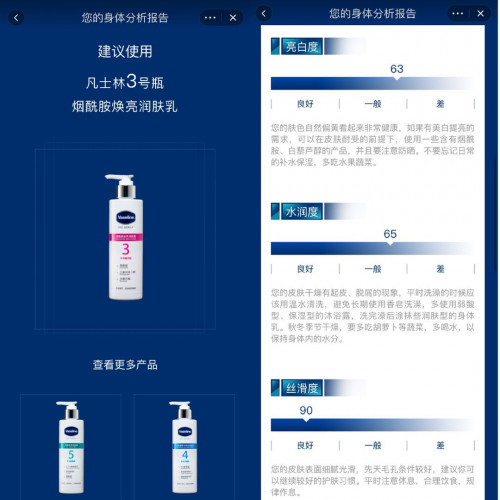 The picture shown is the skin test application report of Vaseline on Tmall.
AI beauty products may become a necessity in e-commerce of beauty industry
In recent years, AI has gradually became a trend pursued in various industries. It is not rare to see the use of AI skin test in the e-commerce of beauty industry. For example, the well-known brand, L'Oreal, has launched intelligent skin test on Tmall, whereas the cosmetic brands such as Mac and Perfect Diary have launched online AR makeup try-on. Despite the difference of everyone's facial features, they enable users to experienced customized online shopping via intelligent beauty product.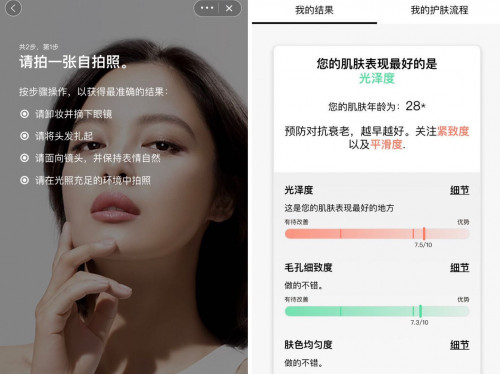 The picture shown is the interface of L'Oreal intelligent skin test.
It can be seen that under the correlation of technologism and aestheticism, AI has gradually opened up a new path in the field of beauty and skin care. Despite sharing the same ultimate goal of creating sales, AI beauty products are gaining more impression among consumers day by day, in comparison with the traditional beauty products. Regardless of the perspective from technology advancement or industry's prospect, the emergence of intelligent beauty products can indeed provide a new marketing method in this industry. AI beauty products may lead the trend of beauty medical industry when the technology matures and the market becomes adapted to it in the future.Nowadays, AI is gradually penetrating into the beauty medical industry and is profoundly transforming all the aspects. The effort of various enterprises in promoting AI products to be better applied in other business subdivision and business transformation, has thrusted the development of artificial intelligence.
Click here for to learn more about the technology: http://en.skinrun.me/